Local Food Systems Courses
We have adapted the below curriculum and are now offering online, local food systems professional development training. See localfoodcourses.org for more information.
---
In 2015, with the support of Southern SARE Professional Development Program funds, a one-time graduate course was delivered to Extension Agents in North Carolina through NC State University and North Carolina Agricultural & Technical State University.
The following lectures and panel presentations were recorded during the 2015 course, Local Food Systems for Extension Agents. The course was divided into five themes presented during six sessions. These themes are the basis for the Modules below. Additional detailed course information, including syllabus, learning objectives, readings, and course session agendas, is available for instructors here.
For questions or comments about the material, please contact:

Joanna Massey Lelekacs, Co-Instructor, N.C. Cooperative Extension Coordinator for Local Foods,  joanna_lelekacs@ncsu.edu
 J. Dara Bloom, Co-Instructor, Assistant Professor and Local Foods Extension Specialist, dara_bloom@ncsu.edu
Abbey Piner, Course Coordinator, Extension Associate, Center for Environmental Farming Systems, abbey_piner@ncsu.edu
---
This course was a collaboration of:
North Carolina Cooperative Extension at North Carolina State University and North Carolina A&T State University
South Carolina Cooperative Extension at Clemson University and South Carolina State University
Virginia Cooperative Extension at Virginia Tech and Virginia State University
Carolina Farm Stewardship Association
Center for Environmental Farming Systems
---

---
Support for development of these materials is provided in part by Southern Sustainable Agriculture Research and Education Professional Development Program, grant #ES13-119 and in part by NC Growing Together, a Center for Environmental Farming Systems-led initiative, funded by the United States Department of Agriculture, National Institute of Food and Agriculture, grant #2013-68004-20363.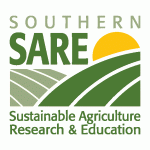 Was the information on this page helpful?