Spotlight on Small Fruits in the Home Garden
Find this article at:
go.ncsu.edu/readext?762517
Our Small Fruit Plant Sale is underway for 2021. We are currently taking orders for plants that will arrive in March – just in time for planting season. Each week, we will be spotlighting one group of plants that we offer in our sale so tune in weekly to explore some fruit varieties you may want to consider planting in your home garden! For specific details on all our plants, or for information on ordering plants, visit our Small Fruit Plant Sale page.
Apples
Brought to America by the Jamestown settlers, apples quickly became an important crop in the colonies. Oddly enough it wasn't for fresh eating but for the production of cider which was an important staple for the settlers. Due to the lack of sanitation, fermented apple cider was consumed when fresh water was not available. Apple cider was even used to pay salaries and was considered in colonial America to be more valuable than tobacco.
Apples need a sunny, well-drained location and ample space. Most trees sold today are semi-dwarf which makes them a little more compact than a standard apple tree but they still need about 16 feet to grow. Two different varieties are needed for good pollination and and after planting the gardener should start seeing a good harvest in 3-5 years. Apple trees can live for many decades with proper pruning and are considered to be one of the healthiest snack choices available. There are many varieties to choose from with about 100 varieties being grown commercially in the US.
We are selling Pink Lady, Honeycrisp, Granny Smith and Arkansas Black in this year's Small Fruit Sale. Each of these selections is unique with its own distinct flavor and any apple lover is sure to find a favorite among this year's choices.
Apple trees are $20 each and come bare root – gel packed and wrapped.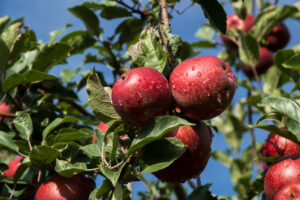 Figs
Among the oldest fruits to be consumed by humans, the fig hails from Asia Minor and was introduced to America by Spanish Franciscan missionaries who came to Southern California in 1520. Figs were used to sweeten foods long before sugar was popular and became a commercially viable crop in the US in 1891 with the invention of the Fig Newton. Ancient Olympians were actually awarded figs instead of gold medals for their athletic achievements!
Most commercial figs are grown in California and Texas and plants have been known to live and produce for over 100 years. Important fig growing culture includes hot temperatures and full sun. Here in western NC only 2 of the 700 named cultivars can withstand our winter weather. Brown Turkey or Celeste are hardy for Burke County but should be grown in a protected area. Well-drained sites close to the house or other out buildings are most suitable. They prefer a northern exposure to prevent early spring growth. Celeste and Brown Turkey are self-pollinating and will bear fruit in about 3 years. Figs can be pruned as small trees or bushes but the bush form gives better cold protection.
We are offering both the Brown Turkey and Celeste Fig in our Small Fruit Plant Sale this year. Fig trees are $20 each and will come bare root – gel packed and wrapped.