A New Blackberry for North Carolina
For blackberry lovers everywhere, there's a new kid on the block. NC State University has just released its first-ever thornless blackberry and is calling it "Von." Von is named in honor of Mr. Von Harvey Underwood, who worked in the bramble breeding program at NC State University for over 44 years.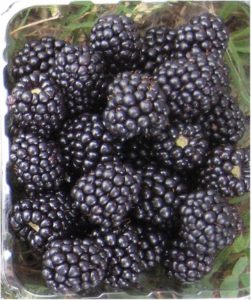 There are many things to like about this new bramble but its small seed size is one of its best attributes. Most hybrid blackberries have large seeds which can be a turnoff to many blackberry lovers. It is also very sweet and low in acid. Von is harvested from the third week in June through the first week in August making it a late bearer and a good addition to lengthen blackberry picking time.
This new thornless variety shows great winter hardiness and has exhibited no incidence of orange rust, a common blackberry disease. It grows well in wet weather conditions and is also considered an erect plant, which means that only limited trellising is needed.
Von was first discovered growing in some Navaho blackberry plants in the mid-1990s and has been growing in test plots in North Carolina research stations since 1998.