4-H Hosts Annual Awards Celebration
On Tuesday, February 24th, Burke County Cooperative Extension and the Burke County 4-H program hosted 4-H Achievement Night. Each year Burke County 4-H recognizes our 4-H Youth and volunteers for their accomplishments over the past year. At this event, 4-Her's are also receive awards for completing 4-H project record books.
This year Burke County 4-H was honored to have Burke County Commissioner, Chairman Johnnie Carswell and Burke County Manager, Mr. Bryan Steen in attendance as they helped recognize these 4-H accomplishments. Burke County 4-H County Council President Pate Pollard officiated the program along with fellow officers Nick Thompson, and Sidney Mull.
Each year, 4-Hers are recognized for milestone accomplishments over their 4-H careers. These awards are called 4-H Achievement Levels. Faith Payne and Keeli Townsend earned their 4-H Cloverbud 7-8 Achievement Level. Ellie Shuping, Grace Payne, and Serenity Williams earned their 4-H Green Achievement Level. Avery Pollard and Emily Shuping earned their 4-H Bronze Achievement Level. Jamie Berry and Pate Pollard earned their 4-H Gold Achievement Level. And lastly, Mollee Soirez was awarded her 4-H Achievement Award which is the final and most prestigious level a 4-Her can reach.
Burke County Cooperative Extension also recognizes 4-Hers for their volunteer efforts with 4-H Volunteer Service Awards. This year Grace Payne, Faith Payne, Alyssa Botelho, and Cheyenne Botelho earned Bronze 4-H Volunteer Service Awards. This year Wyatt Tipton, Amelia Tipton, and Pate Pollard earned Silver 4-H Volunteer Service Awards. Also, Alex Sinden, Caroline Sinden, and Nick Thompson received Gold 4-H Volunteer Service Awards.
Annually, the Burke County Extension 4-H program honors individual achievements with a trio of special awards. This year Alex Sinden and Caroline Sinden were the recipients of the 4-H "I Dare You!" award for their continued growth in 4-H leadership and enthusiasm.
The Best 4-H Officer Award was given to Amelia Tipton for her service and dedication in her role as president of the Citizens in Action 4-H Club.
Lastly, our 2014 Outstanding 4-Her of the Year award was presented to Pate Pollard. Pate has served in a variety of leadership roles while also dedicating time to many 4-H projects on his family farm.
Burke County Cooperative Extension would like to thank all of the Burke County 4-Hers, volunteers, 4-H families and our community supporters for their dedication to the Extension 4-H program. We would also like to thank the Burke County Cattlemen's Association and the Drexel Community Fair for sponsoring our meal and awards for Achievement Night.
If you would like more information about how your child and family can become involved in Burke County 4-H, please contact Burke County Cooperative Extension at (828) 439-4460.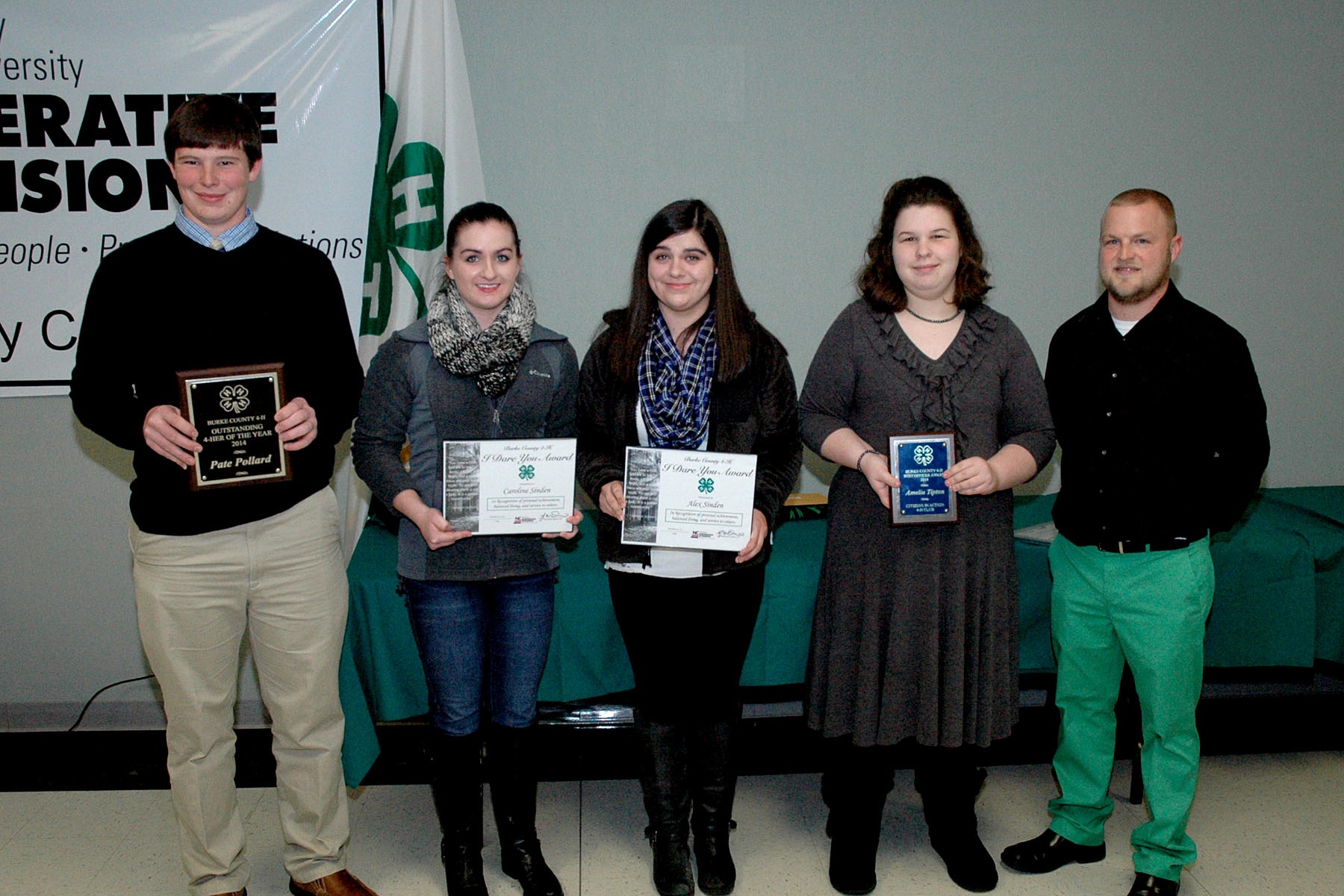 Left to Right, Outstanding 4-Her Pate Pollard, 4-H I Dare You Award recipients Caroline Sinden and Alex Sinden, Best 4-H Officer Amelia Tipton, and Mr. John Davis, Extension 4-H Agent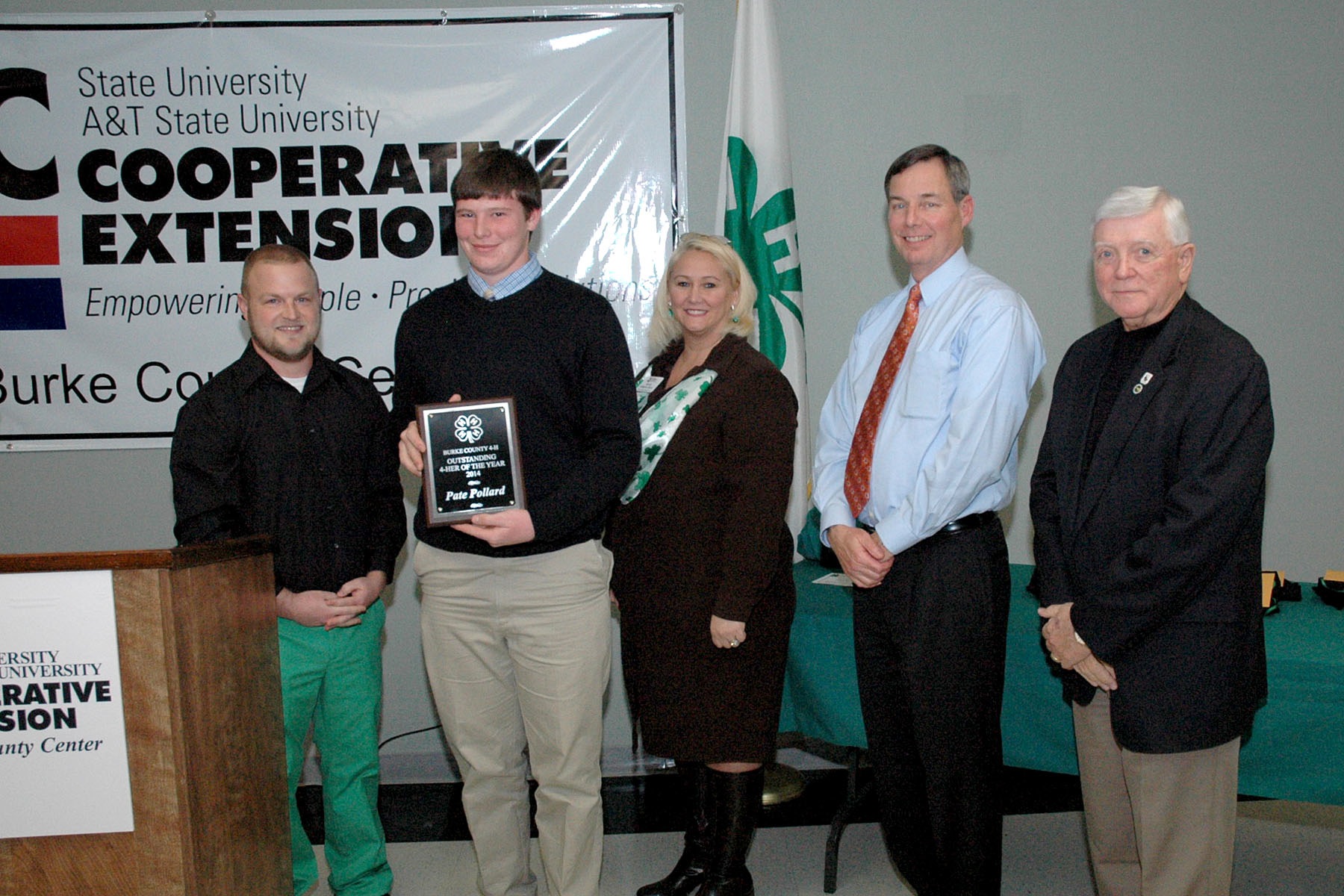 Left to Right, Mr. John Davis, Extension 4-H Agent, 2014 Outstanding 4-Her of the Year Pate Pollard, Mrs. Spring Williams-Byrd, Burke County Extension Director, Mr. Bryan Steen, County Manager, and Chairman Johnnie Carswell, Burke County Commissioner.