4-H Horse Program Succeeds in 2014
Find this article at:
go.ncsu.edu/readext?324685
In 2014, more than 35 youth have participated in the Burke County 4-H Horse Program. The 4-H Horse Program teaches youth about equine science through activities like horse shows, horse judging, summer day camps and the 4-H horse bowl competition. This program teaches youth through hands-on learning along with leadership, citizenship, public speaking, and responsibility. This year, the Burke County 4-H horse program has seen great success on the district, state, and national levels.
In March, three teams from Burke County participated in the district and state 4-H Horse Bowl competitions. These quiz-bowl competition focuses solely on horse facts that the youth can use in taking care of their own horses. The Junior team of Abby Wood, Rachel Wood, Hunter Hudson, and Clara-Ann Boughman placed 2nd at district and participated at state. The Mixed team of Burke Pollard, Cheyenne Botelho, Alyssa Botelho, and Samantha Smith placed 3rd at district and 6th in the state. And the Senior team of Pate Pollard, Jamie Berry, Alex Sinden, Caroline Sinden, and Sidney Mull placed 1st at district and placed 4th in the state. Burke Pollard was recognized as 7th place high point as an individual in the state. These teams will begin training for the 2015 competitions in the coming weeks.
In May and July, ten 4-H horse program youth participated in the West District 4-H Horse Show and the North Carolina State 4-H Horse Show. These shows allow youth to exhibit their showmanship and riding skills with their horses. Placing at the district show earns youth the opportunity to show at the state show in Raleigh. Over 300 youth participated in the state show this year including eight from Burke County. Pate Pollard, Rachel Cinquanto, Abigail Cinquanto, Alex Sinden, Caroline Sinden, and Sidney Mull, all placed in their respective classes at the State 4-H Horse Show. Alex and Caroline Sinden both placed in the top ten in the non-trotting division and earned the opportunity to show at the Southern Regional 4-H Horse Show, held this year at the NC State Fairgrounds in Raleigh. At the regional show, Caroline Sinden finished in 1st place in the gaited pleasure class with Alex Sinden earning 2nd place honors.
The Burke County Cooperative Extension 4-H program would like to congratulate all of these 4-H youth for their hard work and dedication to the 4-H Horse program. Along with competitions, these 4-Hers have also given their time to help lead 4-H summer horse day camps and other workshops to teach other youth about horses.
If you are interested in learning more about the 4-H Horse program, now is a great time to get involved. The 4-H Horse Bowl activities will be starting soon with several teams competing. For more information about these and many other 4-H opportunities, please contact John Davis, Extension 4-H Agent by calling (828) 439-4460.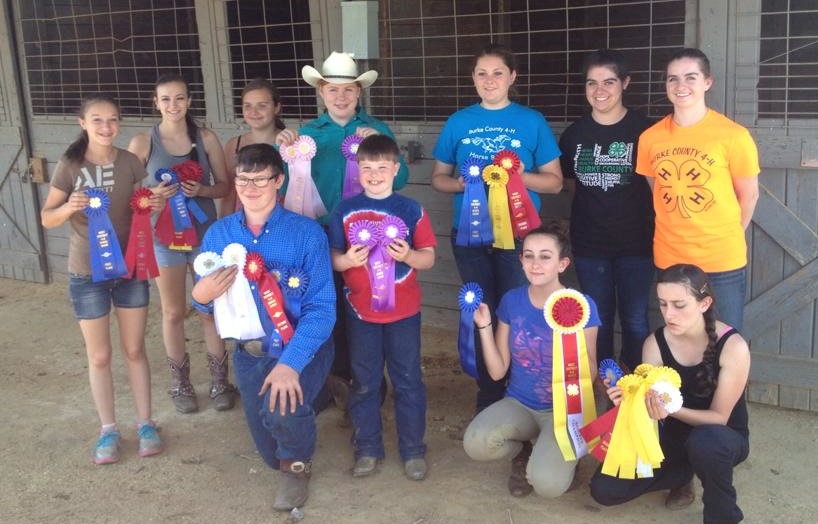 Burke County 4-Hers showing off their ribbons following the West District 4-H Horse Show held in Asheville.