4-Hers Complete Project Records
Following an eventful 4-H year, Burke County youth complete 4-H project records that tell what they have learned in their 4-H project. Projects can include livestock, 4-H Electric, art, leadership, citizenship, community service, science, technology, wildlife, and entomology. These projects are the individual work of each 4-Her and a way for them to tell others what they have learned and did.
This year over 40 project books were submitted and 18 continued on to district competition.
The following 4-Hers completed at least one blue ribbon 4-H project record book:  Allie Bitz, Aubrie Snyder, Maddie Crouch, Charis Ballard, Gracie Ballard, Jacob Hanlon, Jonas West, Joseph West, Marcus Patton, Jessica Henson, Anna Jean Simpson, Charlie Yancey, Peyton Morgan, Tanner Patton, Jesse West, Sierra Henson, Kaitlyn Henderson, Christian Bitz, Samantha Smith, Nick Thompson, Abigail Cinquanto, Alex Sinden, Caroline Sinden, Alyssa Botelho, Cheyenne Botelho, Paul Simpson, Rachel Cinquanto, Sidney Mull, Mary Simpson, Mollee Soirez, Emma Earl, and Jamie Berry.
The following 4-Hers were county champions in their age group and category:  Anna Jean Simpson (Family Consumer Science), Charlie Yancey (Science and Technology), Jesse West (Animal Science-Poultry), Sierra Henson (Citizenship), Kaitlyn Henderson (Animal Science-Horse), Christian Bitz (Leadership), Nick Thompson (Science and Technology), Alyssa Botelho (Animal Science-Horse), Mollee Soirez (Citizenship and Leadership), Emma Earl (Science and Technology), and Jamie Berry (Animal Science-Horse and Science and Technology).
Mollee Soirez, Jamie Berry, and Pate Pollard each completed 4-H Portfolios, which are cumulative records of their 4-H project work over the past 3 years. These portfolios are for senior 4-Hers as they advance in their 4-H careers. All three received blue ribbons and continued on to district and state competition.
These 4-Hers were all recognized during our 4-H Achievement Night event hosted by Burke County Cooperative Extension on Tuesday February 25, 2014. Congratulations to them for all their hard work and accomplishments in the 4-H program this year. They are all examples of how 4-Hers "learn by doing."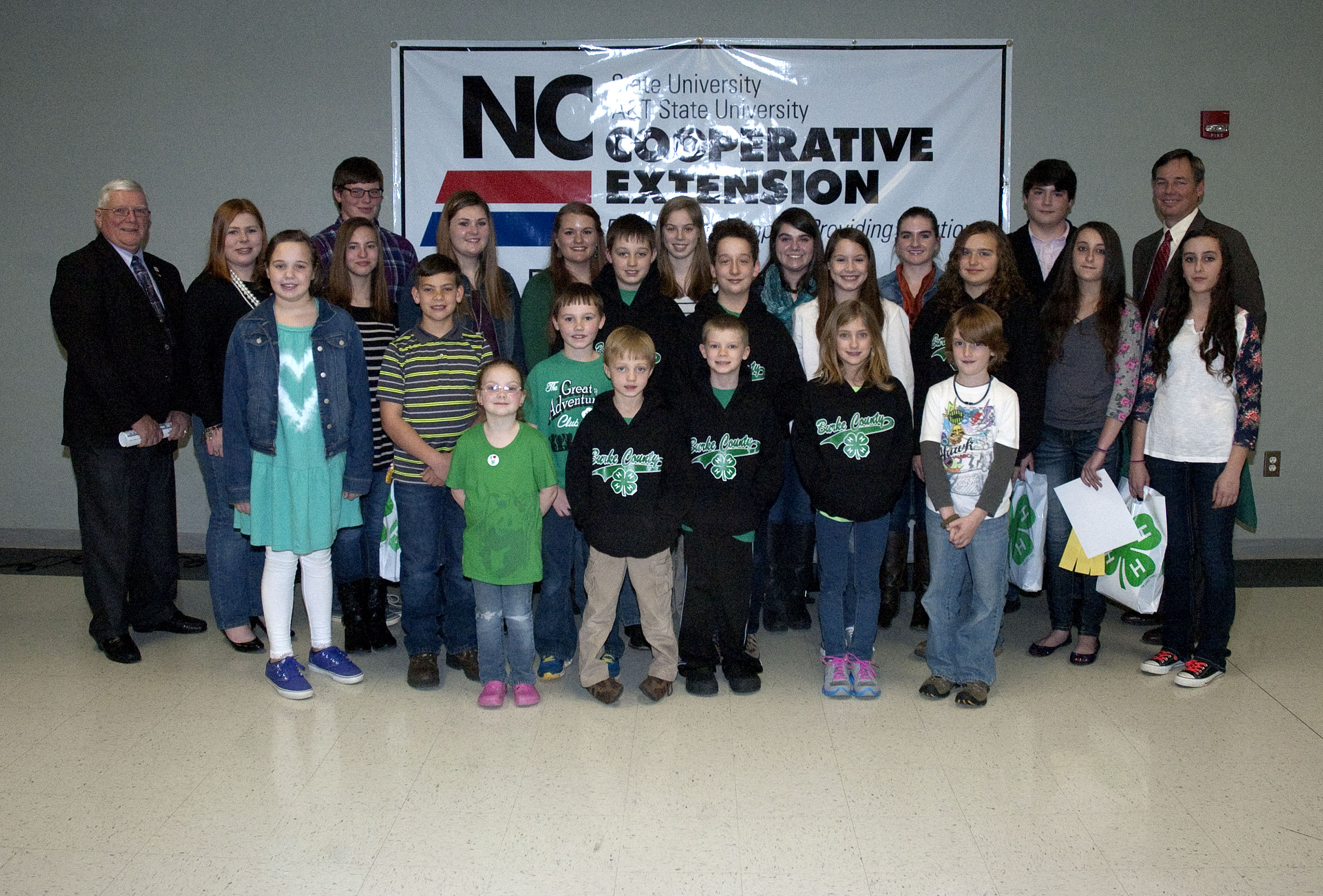 Burke County Commissioner Chairman Johnnie Carswell and County Manager, Mr. Bryan Steen with our 2013 4-H Project Record Book Winners.