4-H Achievement Night 2013
On Tuesday, February 26th, Burke County Cooperative Extension and Burke County 4-H hosted 4-H Achievement Night. Each year Burke County 4-H honors its 4-Hers and clubs by recognizing their accomplishments with annual awards. At this event, 4-Her's are also receive awards for completing 4-H project record books and for their volunteer service in the community.
This year Burke County 4-H was honored to have Burke County Commissioners, Chairman Maynard Taylor, Vice Chairman Johnnie Carswell, and Mr. Jack Carroll along with Burke County Manager, Mr. Bryan Steen in attendance as they helped recognize these 4-H accomplishments.
Burke County 4-Her's also work each year for 4-H Achievement Level Awards as they meet certain 4-H milestones. This year the following 4-Hers earned new achievement levels: Ellie Shuping (Cloverbud), Jacob Hanlon (Cloverbud), Jenna Garrison (Cloverbud), Brevory Foster (Cloverbud), Holden Garrison (Green), Bronson Garrison (Green), Sidney Mull (Green), Nicholas Thompson (Silver) and Pate Pollard (Silver)
This year the following 4-Hers were recognized as blue ribbon winners for their 4-H project books: Bridget Patrick, Emily Shuping, Ellie Shuping, Meredith Kearson, Nicholas Thompson, Mollee Soirez, Angelina Xiong, Charis Ballard, Gracie Ballard, Hannah Sheets, Holden Garrison, Burke Pollard, Cheyenne Botelho, Pate Pollard, Alyssa Botelho, Jenna Garrison, Aidan Gorman, Alannah Gorman, Austin Gorman, Bronson Garrison, Bryon Thomas, Burke Pollard, Caleb McNaughton, William Soper, Abigail Cinquanto, Avery Pollard, Jamie Berry, Kaitlyn Henderson, Rachel Cinquanto, Sidney Mull, Tripp Berry, Jacob Hanlon, Paul Simpson, AnnaJean Simpson, Mary Simpson, and Samantha Smith. Many of these youth will now continue on to district competition.
Pate Pollard, who served as our 2012 4-H County Council President received the Past President Award for his dedication and service in office.
Annually, the Burke County Extension 4-H program honors individual achievements with a trio of special awards. This year Pate Pollard was the recipient of the 4-H "I Dare You!" award for his development in 4-H leadership and attitude towards teaching others.
The Best 4-H Officer Award was given to Nicholas Thompson for his work in 2012 as the president of the Great Adventurers 4-H Club. In 2012, Nicholas helped organize club activities and recruit new members.
This year, Burke County 4-H recognized two Outstanding 4-Her of the Year. Nicholas Thompson was honored as the Junior Outstanding 4-Her of the Year for his overall participation and success in all his 4-H endeavours. Mollee Soirez was recognized as our Senior Outstanding 4-Her of the Year for her leadership and 4-H success on the county, district and state levels.
Burke County Cooperative Extension would like to thank all of the Burke County 4-Hers, volunteers, 4-H families and our community supporters for their dedication to the Extension 4-H program.
If you would like more information about how your child and family can become involved in Burke County 4-H, please call John Davis, Burke County 4-H Agent at (828) 439-4460 or by email at john_davis@ncsu.edu.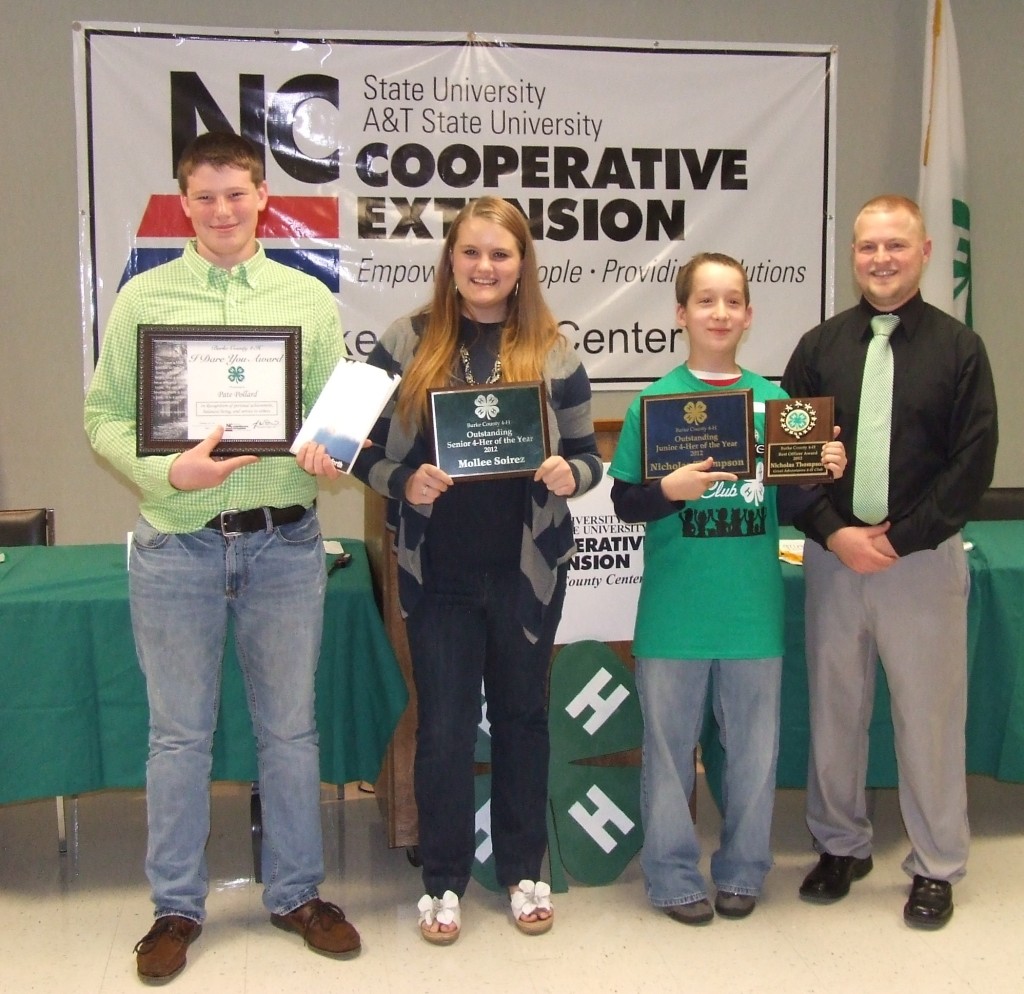 From Left: Pate Pollard, 4-H I Dare You Award Winner, Mollee Soirez, Senior Outstanding 4-Her of the Year, Nicholas Thompson, Best Officer Award Winner and Junior Outstanding 4-Her of the Year, and John Davis, Extension Agent, 4-H and Youth Development.
Burke County Cooperative Extension 4-H recognized over 50 4-H youth with awards during our 4-H Achievement Night celebration.
Was the information on this page helpful?
This page can also be accessed from:
go.ncsu.edu/readext?207774